10 Nov 2023
First Austrian ERA Symposium on "Unlocking the Value of Knowledge" took place in Vienna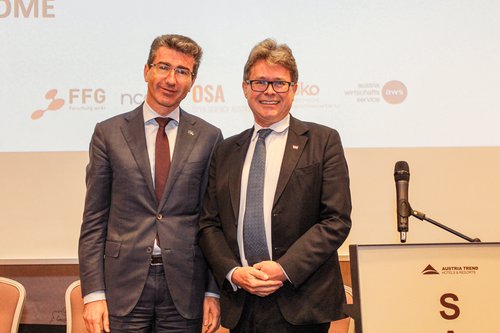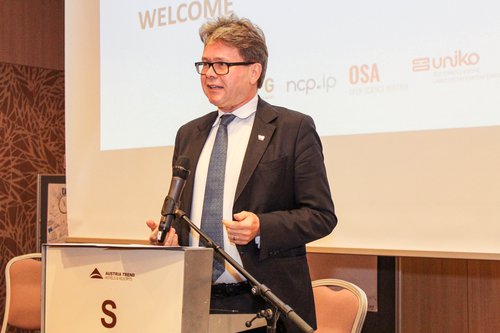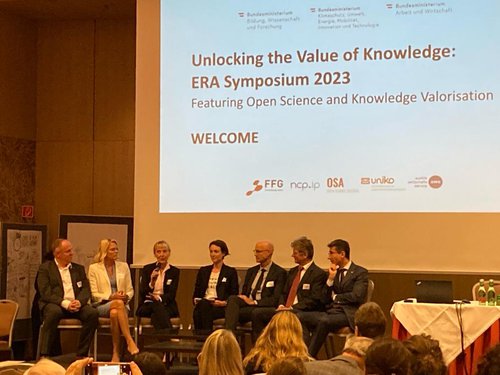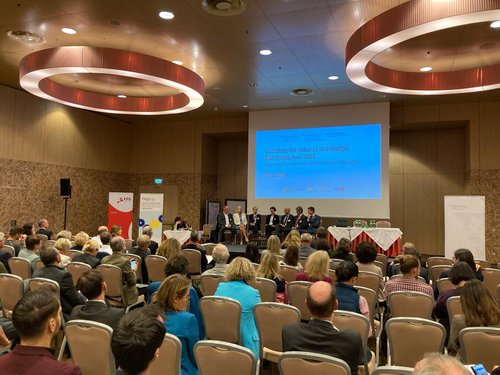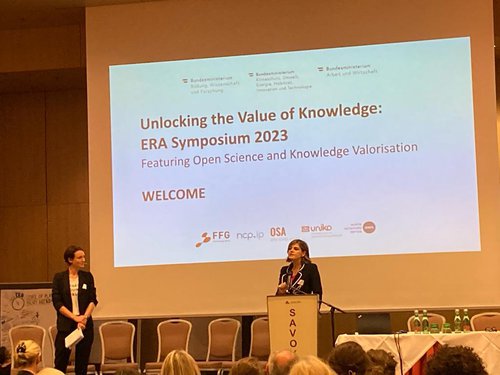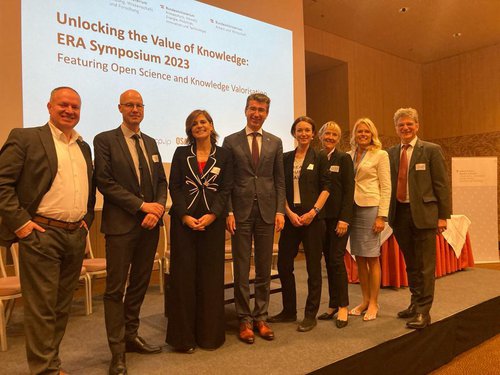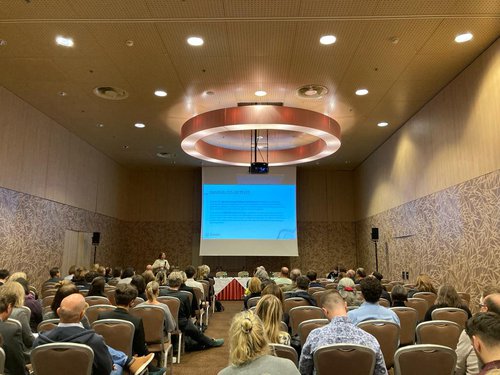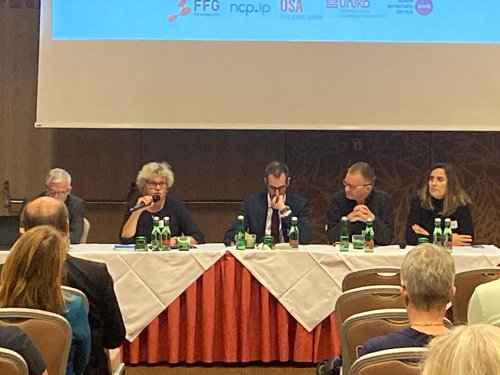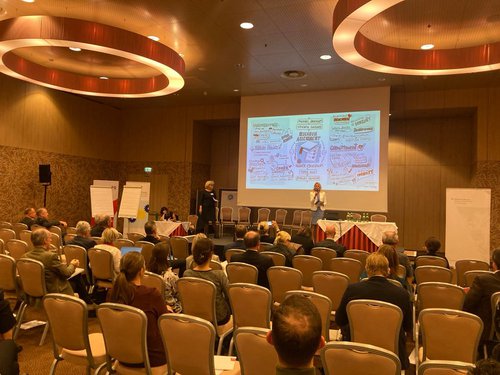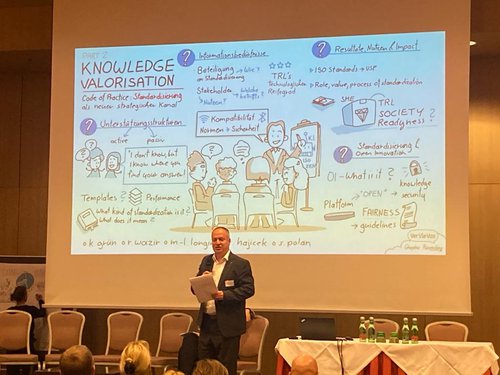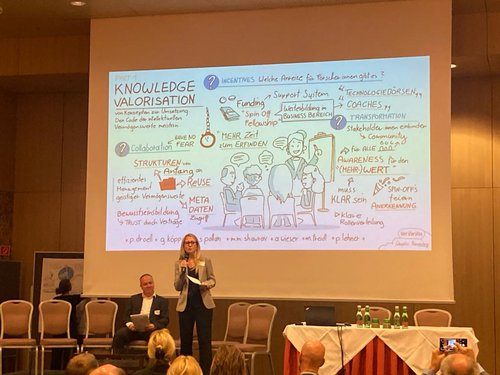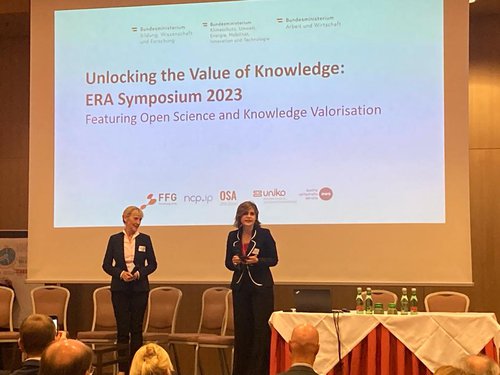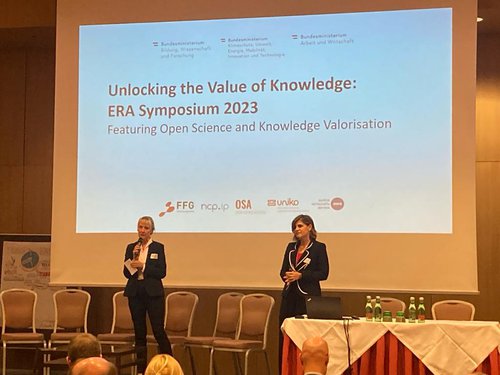 On 9 November 2023, the first Austrian ERA Symposium dedicated to "Unlocking the Value of Knowledge" took place in Vienna. The Symposium is part of the Austrian ERA governance that was established in 2022, following the launch of the "New ERA" and the new ERA governance at European level. With its National ERA Action Plan (ERA-NAP 2022-2025), the Austrian government established an annual ERA Symposium as one of the means to implement the ERA-NAP. The Symposium is designed to increase ERA awareness in Austria, especially among R&I stakeholders and within the R&I community, to involve stakeholders more closely in R&I policy, and to concretely discuss specific current R&I policy issues.
The first ERA Symposium focused on "Open Science" and "Knowledge Valorisation", both of which feature as prominent topics in the ERA Policy Agenda 2022-2024 as well as in the Austrian ERA-NAP 2022-2025. In addition, the Symposium included the Austrian part of the European Commission's Tour de Capitales on Knowledge Valorisation (number ten in the Commission's tour of the Member States), and the first "Community Day" of the newly founded platform Open Science Austria (OSA). A high-level delegation of the European Commission was present at the Symposium, including Director General of DG RTD Marc Lemaitre, as well as Anna Panagopoulou, Director for ERA, Peter Dröll, Director for Prosperity, and Michael Arentoft, Head of Unit for Open Science.
Martin Polaschek, Austrian Minister for Education, Science and Research, welcomed around 300 participants from all over the R&I Community at Hotel Savoyen in the third district of Vienna for a full day of animating speeches, lively discussions and intensive work in thematically focussed break-out sessions. The session on Open Science focused on the issues of research assessment in higher education institutions, and on building an efficient framework for research data management. The lively and also controversial discussions were proof of the intensity and complexity of the ongoing transformations in science. The session on Knowledge Valorisation concentrated on the complex challenges and manifold aspects involved in putting the Codes of Practice on IP and standardisation into practice.
The great interest in the event and the large number of participants demonstrated that the topics that had been chosen for the Symposium are highly relevant to the Austrian R&I community, and also that ERA has finally arrived in the reality of national R&I policy. The Symposium was the first in a series of annual events, with the next event on other important ERA topics to be held in autumn 2024.