13 Sep 2018
Two Innsbruck universities receive Austrian "Nurturing Talents" Prize for ERC Mentoring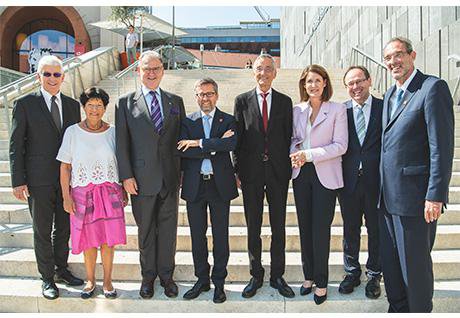 The University of Innsbruck and the Medical University of Innsbruck have been awarded the first Austrian "Nurturing Talents Prize", worth € 10,000 each. The Prize had been initiated by the Federal Ministry of Education, Science and Research in honour of former ERC President Helga Nowotny, and conceived jointly by the ministry, the Austrian Research Promotion Agency FFG and the Austrian Science Fund FWF. The Prize is aimed at motivating and supporting Austrian higher education and research institutions as regards their activities for strengthening their ERC performance, as well as at contributing to international visibility and attractiveness of Austria as a research location. The ERC mentoring concepts can include measures that are already being implemented, but also activities planned for the future.
Heinz Faßmann, the Austrian Minister responsible for science and research, emphasised that "the ERC Grants have long since established themselves as the gold standard for research excellence, and are much sought after, as a consequence". Together with Helga Nowotny, former President of the ERC, the Minister handed over the award to the rectors of the two Tyrolean universities at the FFG FORUM 2018 on 13 September 2018 in Vienna. The University of Innsbruck and the Medical University of Innsbruck had been selected by an independent international jury following a call managed by FFG.
"Europe can become a centre of gravity for young talents in science and research. In order to realise all the existing potential, we have to keep moving both at European level and at Member States level", Minister Faßmann stressed. The "Nurturing Talents Prize" should motivate (potential) Austrian ERC host institutions, "to promote their talents in an even more innovative and original way", said Mr. Faßmann.
Former ERC President Helga Nowotny, who is also chair of the ERA Council Forum Austria, said "Scientific talents need a productive environment in order to be able to fulfill their potential. If the objective is to receive ERC Grants, universities and research institutions are called upon to create the conditions required for success through mentoring and other measures. I am pleased that Austria has also succeeded in initiating such programmes".
Austrian researchers and research institutions are also supported in their ERC activities by the FFG acting as the ERC National Contact Point. Under Horizon 2020, € 194 million of ERC funding have been awarded to Austria so far.
For more information:
FFG - press release (in German)