30 Nov 2018
Researchers, EC and stakeholders discuss impact of SSH and their role in Horizon Europe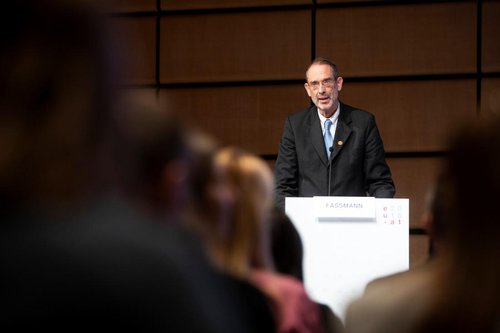 At the conference "Impact of Social Sciences and Humanities for a European Research Agenda" on 28 and 29 Nov. 2018 in Vienna, more than 350 leading experts from the Social Sciences and Humanities came together to exchange experiences on how to raise and demonstrate the impact of research and innovation.
The European Commission (EC) broadly engaged in the conference with participants from DG Research and Innovation, DG Connect, DG Health and Food Safety, and DG Migration and Home Affairs. National and regional funders and stakeholders from more than 40 countries, including experts from Africa, North and South America, were present.
Austrian Minister for Education, Science and Research Heinz Faßmann said in his opening speech: "The challenges of our time cannot be solved by contributions from the natural sciences and engineering alone. We need contributions from social sciences and humanities research to better understand human behaviour und to find solutions for new technologies, social innovations or political decision making."
"Social Sciences and humanities research will also be important for the Missions in Horizon Europe", Minister Faßmann emphasised.
The conference showed that social sciences and humanities will play an important role in Horizon Europe. Integration and cooperation of social sciences and humanities in all clusters of Horizon Europe will be a key component of the programme. It became clear that social sciences and humanities have a strong impact. Regarding indicators for impact assessment, best practices examples and experiences were exchanged. One outcome was that engagement of citizens, users and stakeholders can be an indicator for societal impact as processes and practices display societal impact in a very direct way.
As a follow-up to the conference, a guideline, called Vademecum, will be published, on how to support impact generation and SSH integration in mission-oriented programmes.
The conference was organised by the Centre for Social Innovation (Zentrum für Soziale Innovation) on behalf of the Austrian Federal Ministry of Education, Science and Research (BMBWF) with support of the European Commission, DG Research and Innovation.
More information can be found at www.ssh-impact.eu