13 Nov 2019
OECD publishes results of study "Higher Education Innovate - Country Review Austria"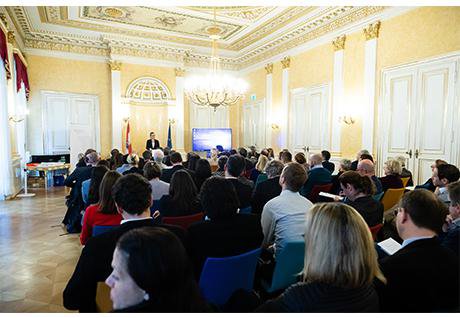 On 12 November 2019, the OECD presented the outcome of its study "Higher Education Innovate - Country Review Austria" in Vienna. The study, carried out on behalf of the European Commission, looked at the situation regarding entrepreneurship and innovation in the higher education sector in Austria. The study finds numerous activities to promote entrepreneurship at universities. Amongst others, the performance agreements concluded every three years between the Federal Ministry of Education, Science and Research and the public universities contain a chapter dedicated to "science and technology transfer / open innovation". Four out of five higher education institutions have a dedicated office for knowledge transfer.
The OECD recommends to higher education institutions to continue and expand their activities regarding innovation and entrepreneurship. Among its recommendations is creating a common understanding of what entrepreneurship actually means; another is promoting interdisciplinary and regional initiatives, since there are considerable regional differences within Austria. Overall the OECD advocates greater visibility for initiatives and measures connected with innovation and entrepreneurship - the Country Review includes best-practice examples for this purpose.
Minister for Education, Science and Research Iris Rauskala is pleased with the outcome of the study, saying it is a very good report for Austrian higher education institutions and confirms them as key players for innovation and entrepreneurship that not only promote science, research and innovation but also make an essential contribution to Austria's economic and social success.
The first round of Higher Education Innovate Country Reviews covered Bulgaria, Ireland, Poland, Hungary and the Netherlands. In the second round, Austria, Croatia, Italy and Romania have also participated.
For more information: