03 Feb 2021
Launch of Horizon Europe reinforces goals for more innovation and research in Europe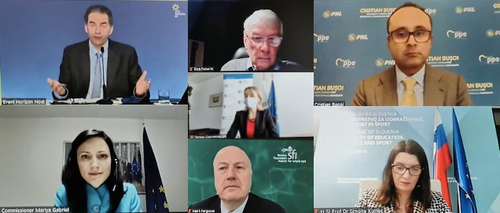 On 2 February 2021, Horizon Europe was launched officially via an online event organised by the Portuguese Council presidency. Speakers came from the area of politics, research and business and stressed the importance of the programme for achieving the EU's ambitions for a green, digital and resilient recovery.
"Now it is time for action", Portugal's minister of science, research and higher education, Manuel Heitor, said in his opening speech. He hosted the event as part of Portugal's presidency of the Council of the EU. Minister Heitor recalled that science would create markets and jobs. It would also attract talents and this would be also the topic of the informal video meeting of Research Ministers of 3 February. He also stressed the need for collective actions of the business sector and academia to succeed for a better future.
Commissioner Mariya Gabriel said Horizon Europe was a key instrument to see beyond the Horizon, and the current crisis would be an opportunity to shape the recovery in a greener, more digital and more inclusive way. "Let's join forces, investments and ideas for making research and innovation the driving force of our future", she called on the ministers. The Commissioner pointed out the new key elements of Horizon Europe such as missions, the EIC and Partnerships. She also mentioned the envisaged Pact for R&I aiming at strenghtening cooperation, aligning R&I investments and implementing reforms.
MEP Cristian Buşoi, Chair of the European Parliament's ITRE committee, stressed the need for a start of Horizon Europe without further delay. For the European Parliament, maximum administrative simplification for scientists would be an important issue, he said. Cristian Buşoi pointed out that the missions had created a lot of expectations. He also said that EU regional development funds should be used to finance R&D proposals that are well evaluated by Horizon Europe, but cannot be funded due to a lack of budget.
For those who missed the event, a recording is available here: