04 Jun 2019
JRC and IIASA report looks at demographic trends in the EU up to 2060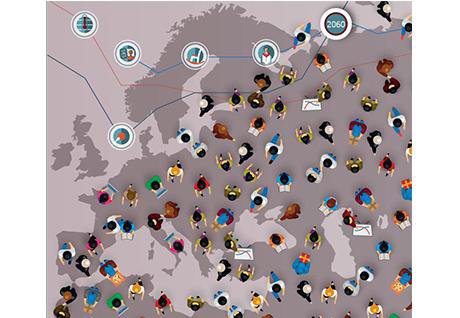 The European Commission's Joint Research Centre and the International Institute for Applied Systems Analysis (IIASA) have published joint a report on "Demographic Scenarios" in the EU up to 2060. The report was released on 4 June 2019 and looks at factors such as migration, education levels and labour force participation. The report provides a set of scenarios which reveal how these factors can shape the EU's future population and labour market.
Among the key findings or the report is an expected average life expectancy thanks to advances in medicine and life; an even better educated, though smaller, labour force in the EU, which will need to support more dependants in the future, putting EU social systems under increased pressure; the need to increase labour force participation; immigration becoming an influential factor on demographic developments; intra-EU mobility as another key shaper of the EU's future demographics – in particular movement towards the West, with population declines and accelerated population ageing in some eastern and southern EU countries; global population growth continuing, especially in Africa and Asia, with the promotion of education, particularly for girls, as key for achieving more moderate population growth and development success.
The authors of the report highlight that while these changes may seem daunting, they do not pose unsolvable problems to our societies.
Demographic Scenarios for the EU - Migration, Population and Education