10 Sep 2018
IIASA-JRC Evidence-for-Policy Summer School presents event outcome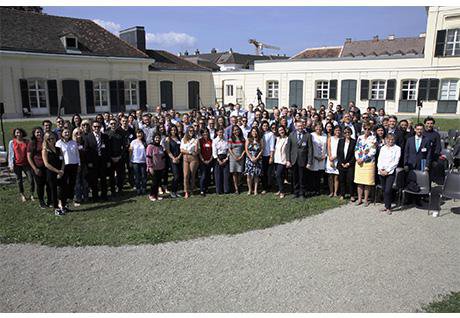 The IIASA-JRC Evidence-for-Policy Summer School took place from 5 to 7 September 2018 at IIASA in Laxenburg near Vienna. The event with a focus on "Science, Policy and Demography: The role of population and migration for sustainable development in the European neighborhood" was jointly organised by IIASA and the European Commission's Joint Research Centre (JRC), in collaboration with the International Network for Government Science Advice (INGSA) and the Global Young Academy.
A total of 75 researchers and policymakers from 40 countries (EU Member States, Associated Countries, Neighbourhood Countries and other countries) attended the event. The summer school trained both scientists and policy-makers in using evidence for creating informed policy solutions.
In his opening address, IIASA Acting Director General Nebojsa Nakicenovic emphasised that we live in times where evidence is more abundant and more important, but also more contested than ever before. JRC Director-General Vladimír Šucha particularly stressed the importance of universities and other research institutions in providing policy-makers with relevant and correct information. Federal Minister for Education, Science and Research of the Republic of Austria, Heinz Faßmann, addressed the audience by video. How research, technology and innovation policy can contribute to sectoral policies is one of the objectives of the Austrian Presidency in the field of RTI. The minister pointed out that research and innovation play an ever more important role in sectoral policies. The challenges of our time need a whole-of-government approach, that is, more cooperation between all policy areas.
The summer school showed the value of deepened interaction between scientists and policy-makers. It gave an example of how to apply the whole-of-government approach in the field of migration and population policy. It also highlighted the need to further strengthen cooperation between scientists and policy-makers, and to develop systematic ways for them to interact.
For more information: