17 Sep 2018
ICRI 2018 Conference discusses international cooperation for research infrastructures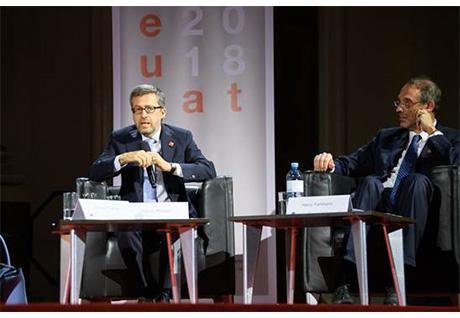 The International Conference for Research Infrastructures (ICRI) 2018 took place from 12 to 14 September 2018 in Vienna. The event is the largest and most important conference in the field of developing and building up research infrastructures. It took place for the fourth time this year, after conferences in Copenhagen in 2012, Athens in 2014 and Kapstadt in 2016. Vienna for several days became the centre of large-scale research ideas, research institutions and plans for the future in the field of research infrastructures. Not only the natural sciences with its impressive large-scale facilities, but all fields of sciences were represented at the event, including the social sciences and humanities, making ICRI a unique event worldwide.
Together with the European Commission, the Federal Ministry of Education, Science and Research (BMBWF) within the framework of the Austrian Presidency of the Council of the EU had invited more than 600 representatives from 59 countries from the fields of policy and research to attend the three-day conference at the Hofburg palace in Vienna. The programme provided room for discussions, international exchange and the establishment of transnational cooperations. In addition to global discourse, the focus of this year's ICRI conference was on the essential role that (large-scale) research infrastructures play in meeting the grand societal challenges.
The conference was opened by Barbara Weitgruber, Director-General for Scientific Research and International Affairs at the Federal Ministry of Education, Science and Research, and Jean-David Malo, Director of the Directorate for Open Innovation and Open Science at the European Commission's General Directorate for Research and Innovation. On the second day of the conference, Austrian Federal Minister for Education, Science and Research Heinz Faßmann and EU Commissioner for Research, Science and Innovation, Carlos Moedas, held a discussion on current research policy issues and the role of science diplomacy.
For more information:
ICRI2018 website