04 Feb 2020
FFG publishes thematic dossier on performance of Austrian enterprises in H2020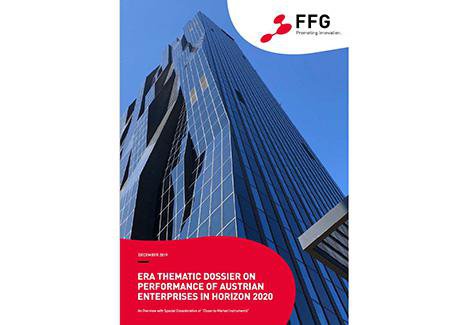 The FFG - Austrian Research Promotion Agency has recently published an ERA thematic dossier on the performance of Austrian enterprises in the current Framework Programm Horizon 2020. The report focusses on PRCs (private commercial) and also aims to derive conclusions for policy makers, stakeholders, and other relevant actors in the field. The empirical analyses are based on the most recent available data (03/2019) provided by the European Commission, and in some cases accompanied by data from the FFG and the EUREKA Secretariat.
The first part of the analysis focuses on the participation of Austrian companies in Horizon 2020 (Chapter 3). Additionally, a whole chapter is devoted to so-called "close-to-market instruments" (Access to risk finance, PCP-PPI) and the participation of Austrian companies in multilateral partnership initiatives (Eurostars). Another focus is placed on the performance of SMEs in relation to the SME instruments in H2020 (Chapter 4).
The performance of Austrian companies within the three pillars (i.e. "Industrial Leadership", "Excellent Science" and "Societal Challenges") is discussed in Chapter 5. Comparisons with national programmes (FFG) complete the empirical analysis (Chapter 6). The dossier concludes with a brief overview of the key changes relevant to companies in the upcoming Horizon Europe programme (Chapter 7).
The present dossier is a product of the cooperation between EU Performance Monitoring (EUPM) and European and International Programmes (EIP). It aims to offer a comprehensive overview, just when the Horizon 2020 period is approaching its end.
Thematic Dossier on the Performance of Austrian Enterprises in Horizon 2020