11 Dec 2018
Experts discuss future of security research at Presidency conference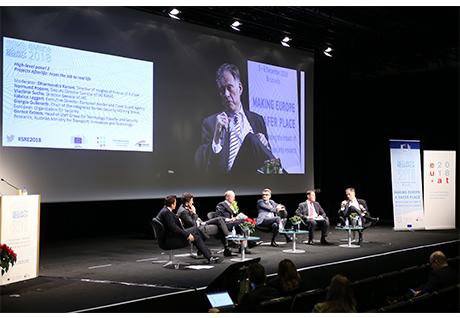 The Security Research Event (SRE) 2018 took place from 5 to 6 December 2018 in Brussels. The event is the largest and most important conference for security research related matters in Europe. A combination of conference and exhibition, the SRE provides the place to discuss the future of security research while evaluating the results of past endeavors. 53 project results funded by the European Security Research Programme (ESRP) and the Austrian security research programme KIRAS within the fields of countering terrorism and radicalisation, border management, citizens awareness, cybercrime, protection of public spaces, maritime security and disaster resilient societies were on display.
The European Commission, in cooperation with the Federal Ministry for Transport, Innovation and Technology (BMVIT) had invited more than 1,000 representatives from politics, industry, and research as well as security practitioners to The Square venue at the Mont des Arts in Brussels. Conference and exhibition provided ample room for two days of high-level statements, expert talks and intense networking, wandering around the exhibition, or just delving in the big crowd of security research experts.
The conference saw keynote speeches and appearances by Austrian Federal Minister for Transport, Innovation and Technology, Norbert Hofer, European Commissioner for the Security Union, Julian King, and MEP Dan Nica, followed by high-level panels. On Day 2, expert panels discussed various security research subjects. Recurring themes on the strategic level were the preservation of security research as a genuine societal challenge in the next Framework Programme, the complexity of the exclusively civil focus of the programme and dual-use research, as well as the relationship between ESRP and the future European Defence Fund (EDF).
Pictures of the event can be found on the conference website.