07 Nov 2018
Experts and policy makers discuss R&I impact and evaluation in Vienna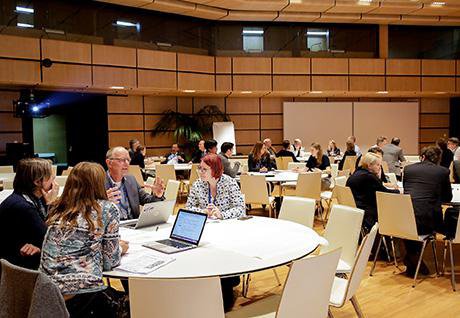 At the conference "Impact of Research and Innovation Policy at the Crossroads of Policy Design, Implementation and Evaluation", speakers from all over the world discussed the role and importance of evaluation and various dimensions of impact of research, technology and innovation. Almost 250 participants from 39 countries shared their methodological experiences, the knowledge on indicators and modes to assess societal impact of mission-oriented R&I policy.
The involvement of policy-makers such as the European Commission and Austrian Federal Ministries guaranteed a holistic approach, including academic questions raised by scientists and scientific institutions (for example on the usage and implications of big data approaches or Artificial Intelligence) and issues of the implementation of and learning from evaluation results – a challenge genuine evaluators and research and technology organisations are always faced with.
The conference took place under the auspices of the Austrian EU Council Presidency in Vienna on 5-6 November. It was organised by the Austrian Platform for Research and Technology Policy Evaluation (FTEVAL), the Manchester Institute of Innovation Research and the French Institute for Research and Innovation in Society (IFRIS) on behalf of the Federal Ministry of Transport, Innovation and Technology (BMVIT).