27 Nov 2019
European Parliament gives approval to new European Commission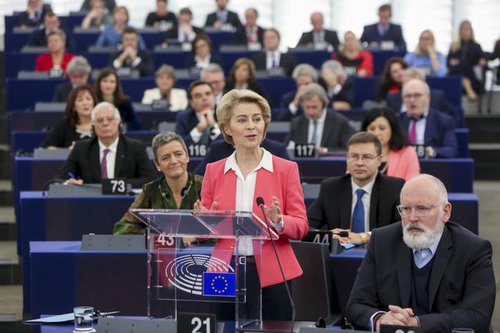 On 27 November 2019, the European Parliament gave its approval to the new European Commission led by Ursula von der Leyen. Ahead of the vote, the President-elect delivered a speech and presented her team of designated Commissioners and their programme. She highlighted that appropriate investment and regulatory frameworks will be put into place for Europe to lead the way internationally on a range of critical issues: environmental protection and climate change, growth, inclusion, innovation and digitalisation, as well as the protection of democracy, European values, citizens' rights and the rule of law.
During her speech Ursula von der Leyen also announced that Mariya Gabriel's portfolio will be renamed "Commissioner for Innovation, Research, Culture, Education and Youth".
As a next step, the European Council has to approve the Commission by qualified majority before the new Commission takes office on 1 December 2019.