20 Jun 2017
European Innovation Scoreboard: Some improvements and uneven progress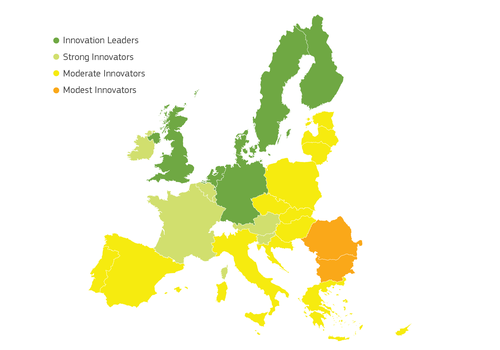 On 20 June 2017, the European Commission (EC) published the European Innovation Scoreboard 2017. One of the main findings is that the EU's innovation performance last year continued to grow, despite somewhat uneven progress observed around Europe. Overall, innovation performance has improved in 15 countries, though large differences exist between these Member States. Sweden remains the innovation leader, while Lithuania, Malta, the Netherlands, Austria and the UK are the fastest growing innovators.
Austria improved its performance from rank 11 to rank 7 within two years. For Austria, performance has increased over time by 8.9% relative to that of the EU in 2010. Relative strengths of the Austrian innovation system are in firm investments, attractive research systems, and intellectual assets. Relative weaknesses are in employment impacts, sales impacts, and finance and support. Notable structural differences are a larger share of SMEs in turnover, a lower share of large enterprises in turnover, a higher number of Top R&D spending enterprises, but lower average R&D spending of these enterprises, higher GDP per capita, and higher population density.
From a global perspective, the EU is catching up with Canada and the US, but South Korea and Japan are pulling ahead. China shows the fastest progress among international competitors.
Carlos Moedas, Commissioner for Research, Science and Innovation, said: "The Scoreboard shows that still more can be done to improve research and innovation performance. That's why we're gearing up support to breakthrough innovators through the pilot European Innovation Council under the EU's Horizon 2020 research and innovation framework programme."
The 2017 edition of the Scoreboard uses a refined methodology which better captures investments in skills, digital readiness, entrepreneurship, and public-private innovation partnerships. To allow performance to be tracked over time, the new methodology has also been applied to data from previous years.
The report and the Country profile for Austria can be downloaded here.
BMWFW Press Release (in German)
infographic by European Commission