16 Oct 2018
EU Research Ministers and Commissioner Moedas discuss Missions and Partnerships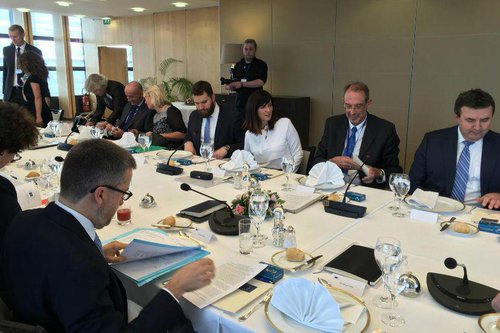 By joint invitation of Carlos Moedas, Commissioner for Research, Science and Innovation, and Heinz Faßmann, Austrian Federal Minister for Education, Science and Research and current President of the Council Competitiveness for the part Research, representatives of the 28 members states met on 15 October 2018 in the Berlaymont Building in Brussels for an informal lunch to discuss the issues of Research and Innovation (R&I) Missions and large Partnership Initiatives in Horizon Europe.
The meeting took place two weeks after the Council had decided to include the areas of Missions and institutional Partnerships in the legal text of Horizon Europe. As promised by Commissioner Moedas at the Council meeting on 28 September 2018, the European Commission presented a non-paper, containing a list of areas which the Commission believes to have the greatest potential to be the basis of the first Missions and of the large Partnership Initiatives (both public-public/Art. 185 TFEU and public-private/Art. 187 TFEU) within Horizon Europe.
Commissioner Moedas presented the list of areas to the ministers in detail, also explaining the process and the reasoning within the European Commission. A lively exchange of views followed, during which the ministers expressed their first assessment of the list of areas as well as the overall approach and process.
Many ministers pointed out the importance of the role of member states in both the selection and implementation of Missions and Partnerships. Furthermore they emphasised that Mission must be relevant and meaningful for citizens.
Minister Faßmann concluded the following on behalf of the Council:
The member states acknowledged the preparatory work of the Commission in preparing the list of areas.
The Presidency aims for an agreement on the list of areas for Missions and institutional Partnerships at the next meeting of the Council Competitiveness on 30 November 2018.
As a first step towards the agreement in Council, the Presidency will organise a technical seminar on 17 October 2018.
Minister Faßmann explained that it is important to agree on the list of areas without delay, since preparation of the Missions and the institutional Partnerships needs to commence very soon if they should start in time at the beginning of Horizon Europe.