04 Dec 2017
EU ministers for research agree on principles for future funding of research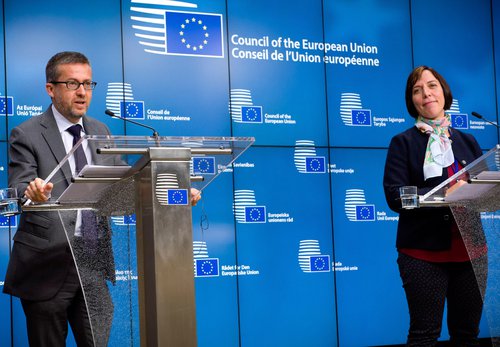 At the Research part of the Council Competitiveness on 1 December 2017 in Brussels, Research Ministers adopted the Council Conclusions on the midterm evaluation of Horizon 2020, including messages towards FP 9. "Smart solutions have become a part of our daily lives, but we rarely think about ID cards, smartphones or parcel terminals as the outcomes of research. We need to continue our work so that people understand how science can simplify routine tasks. I am glad that during the Estonian Presidency, the ministers for research agreed on the main guidelines of the EU's next research funding programme. This will give rise to new revolutionary solutions of which we have no idea today. It is essential that the programme is open for participation to top researchers and businesses," said the Estonian Minister for Education and Research Mailis Reps.
The ministers agreed on specific guidelines for structuring the complex framework in place for partnerships. Participation in research partnerships should be simplified and barriers that currently prevent researchers from some countries and institutions from participating in joint projects, which also give rise to the participation gap, should be eliminated. The fragmentation of various funding facilities that also impedes cooperation should be reduced. To this end, a working group was set up for making recommendations to the research ministers for addressing these issues.
In the following orientation debate ministers started a discussion on the mission-based approach to enhancing the impact of research as suggested in the July report issued by the High-Level Group of experts led by Pascal Lamy. This means channelling research and innovation funding to tackle cross-cutting issues that involve a high risk of failure and that allow a clear measurement of impacts and outcomes over a specific period. This approach will encourage more researchers, scientists, investors, and innovators from various sectors to combine their efforts for achieving a common goal. The changes aim to increase the social impact of research and involve more citizens in the development and implementation of research programmes. There is no agreement on specific missions yet. However, there are some ideas guided by the sustainable development objectives of the UN - a plastic-free Europe, the introduction of revolutionary energy storage equipment, the production of steel without carbon dioxide, etc. Future talks between the ministers should yield details about such missions.
Press Release Estonian Presidency
Council Conclusions From the Interim Evaluation of Horizon 2020 towards the ninth Framework Programme
Stakeholder reactions can be found here: