10 Apr 2019
EU and China step up cooperation in research and innovation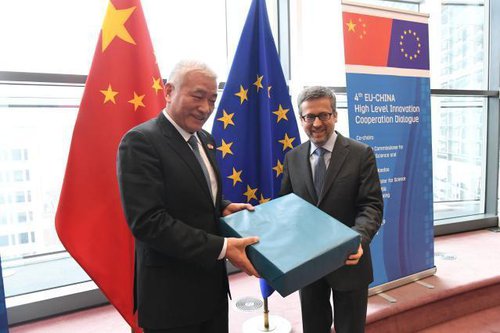 On 9 April 2019, in the margins of the EU-China Summit, the EU and China met for the fourth innovation cooperation dialogue in Brussels. The high-level meeting was co-chaired by Carlos Moedas, Commissioner for Research, Science and Innovation, and Wang Zhigang, Chinese Minister of Science and Technology. As a result, the EU and China will develop a joint roadmap for cooperation in research and innovation. The roadmap will cover both rules and mechanisms as well as specific science and technology fields for this collaboration.
The Dialogue also focussed on framework conditions for cooperation, including mutual openness of the respective research and innovation programmes, open access to scientific publications and research data; standardisation; research ethics and integrity; policies to support SME's innovation; and intellectual property protection and enforcement in stimulating innovation. Both sides also confirmed their agreement to proceed with the tacit renewal of the Science and Technology Agreement (in place since 1998) for another 5-year period.
A Joint Communiqué can be downloaded here.