03 Nov 2021
EU and Bill Gates launch Catalyst partnership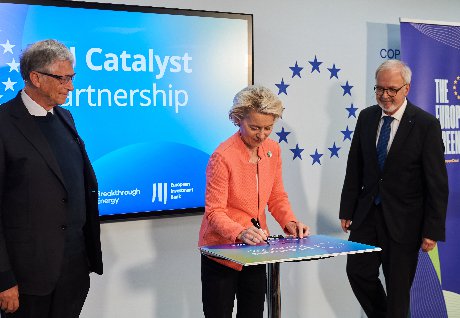 On 2 November 2021, the European Commission, the European Investment Bank (EIB) and Bill Gates, the Founder of Breakthrough Energy, officially started the 'EU-Catalyst partnership' aiming at boosting investments in critical climate technologies. The partners signed a Memorandum of Understanding, as a follow up of the initial announcement made in June this year at the Mission Innovation Ministerial Conference.
The goal of the partnership between Commission, EIB and Breakthrough Energy Catalyst is to mobilise up to €820 million ($1 billion) between 2022-2026 to accelerate the deployment and rapidly commercialise innovative technologies that will help deliver European Green Deal ambitions and the EU's 2030 climate targets. The expectation is that each euro of public funds will leverage three euros of private funds. Investments will be directed towards a portfolio of EU-based projects with high potential in four sectors:
clean hydrogen
sustainable aviation fuels
direct air capture
long-duration energy storage.
EU funding for the partnership will be drawn from Horizon Europe and the Innovation Fund, and will be managed under InvestEU.