12 Sep 2018
ESFRI 2018 Roadmap presented at conference in Vienna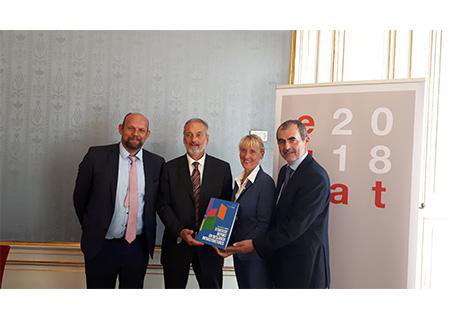 On 11 September 2018, the European Strategy Forum on Research Infrastructures (ESFRI) presented the 2018 ESFRI Roadmap on Large Scale Research Infrastructures at its conference in Vienna. Six new Projects have been taken up into the Roadmap and were presented at the conference which was hosted by the Austrian EU Council Presidency.
The Roadmap 2018 includes a total of 18 ESFRI Projects. The 6 new entries come from the following fields:
Energy

IFMIF-DONES: A facility for testing, validation and qualification of the materials to be used in a fusion reactor (coordinated by Spain)

Environment

DiSSCo: An infrastructure integrating natural history collections of major European institutions (coordinated by The Netherlands)
eLTER: An infrastructure integrating ecosystem research sites across Europe (coordinated by Germany)

Health and Food

EU-IBISBA: A multidisciplinary research and innovation infrastructure for industrial biotechnology (coordinated by France)
METROFOOD-RI: An infrastructure for metrology services in food and nutrition throughout the value chain (coordinated by Italy)

Social and cultural innovation

EHRI: An infrastructure for research on Holocaust (coordinated by The Netherlands)
For the first time, ESFRI focused on the broad effects that specific research infrastructures have on all areas of science and knowledge. ESFRI also identified new areas with a high strategic potential in the field of social and cultural innovation. In addition, it highlights the increasing role of research infrastructures in the rapid development of data-driven research and growing focus on enabling innovation. It also underlines the need for a comprehensive strategy to ensure the long-term sustainability of the European research infrastructure ecosystem.
Austria is participating successfully in numerous ESFRI Projects and hosts the headquarters of the European Biobanking and BioMolecular resources Research Infrastructure BBMRI. It also contributes significantly to one of the new entries on the ESFRI list, the pan-European Long-Term Ecosystem Research Infrastructure (eLTER RI). This project has been prepared for many years, with the German Helmholtz Center for Environmental Research and the Austrian Federal Environment Agency in the lead. eLTER RI provides a unique holistic and systemic approach for observing and analysing the environment, covering biological, geological, hydrological and social-ecological perspectives and creating a bridge between environmental monitoring and environmental research.
The ESFRI Roadmap identifies new Research Infrastructures (RI) of pan-European interest corresponding to the long term needs of the European research communities, covering all scientific areas, regardless of possible location.
For more information:
BMBWF - press release (in German)
The video recording of the event and the presentations are available online and can be accessed via the ESFRI website here.