26 Mar 2018
ERC publishes Annual Report 2017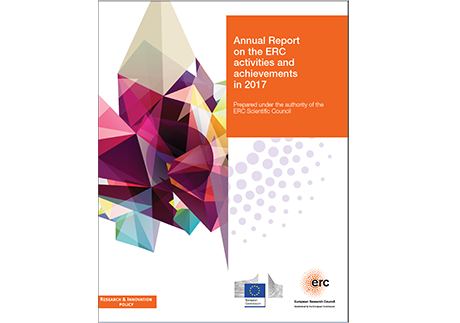 On 26 March 2018, the European Research Council published its Annual Report on the ERC's activities and achievements in 2017. One of the major ERC highlights in 2017 was the organisation of its tenth anniversary celebrations. The main celebration, which took place on 21 March 2017 in Brussels, was attended by around 500 people, with a video-message from Commission President Jean-Claude Juncker and speeches by Commissioner Carlos Moedas, by the Chair of the European Parliament's ITRE Committee Jerzy Buzek, the Chair of the High Level Expert Group on maximising impact of EU R&I Programmes Pascal Lamy, as well as ERC President Jean-Pierre Bourguignon and members of the Scientific Council.
Another focus of 2017 was preparing for the next Framework Programme. The Scientific Council's reflections were published on 15 May 2017 in a short public statement entitled 'Building on a European Success Story to Further Empower European Researchers'. In it, the Scientific Council took stock of 10 years of ERC operations and formulated its recommendations on the place of the ERC in the next Framework Programme.
Also during 2017, a study was conducted by independent external experts to assess the ERC PoC funding mechanism, with the aim to provide information and analysis on the current and expected performance of the PoC awards.
The report can be downloaded here.