23 Nov 2018
EOSC is officially launched at Presidency conference in Vienna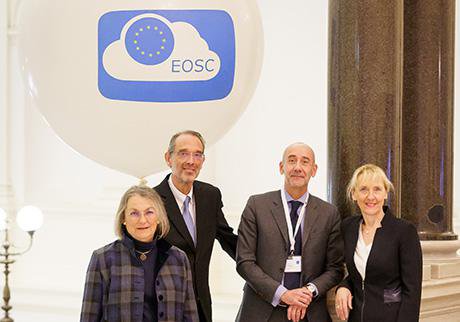 The launch event for the implementation of the European Science Cloud took place in Vienna, hosted by the Austrian EU Council Presidency, on 23 November 2018, where the European Open Science Cloud went online officially. "The Cloud will enable millions of researchers to store, manage, analyse and re-use huge quantities of research data in a reliable environment, across technologies, disciplines and borders. Big Data will be have significant benefits for science, research and the public sector, by providing them with first-class supercomputing functions, high-speed connectivity and state-of-the-art data and software services", Austrian Science Minister Heinz Faßmann said at the launch event.
Carlos Moedas, European Commissioner for Research, Science and Innovation, stated: "With the Open Science priority, we have set ourselves the task of changing the way European science works. Today's launch of the first Cloud Portal is an important milestone in this direction. The Cloud will give Europe a leading edge with regard to fully exploiting the advantages of data-based science. Thanks to the commitment of scientists, industry and EU Member States, we have implemented an idea in less than three years."
The European Commission (EC) was provided in May 2018 with a mandate for designing this Cloud. A few months later, there are already concrete results. At the Austrian Presidency conference in Vienna, the EC presented the governance structure and the Portal to future users. The conference participants also adopted the so-called "Vienna Declaration" at the conference, thus confirming the EOSC governance structure and affirming their readiness to continue to cooperate.
The governance structure comprises individuals and institutions consisting of members of the EOSC Governance Board, the Executive Board and the Stakeholder Forum. Together, they will draw up a strategic implementation plan, annual work plans, as well as the rules for participating in the EOSC. The start of the Portal that enables access to initial services and resources is an important step on the way towards completing the EOSC by 2020. The Portal enables around 1.7 million researchers and 70 million specialists in science and technology to access a growing volume of open data and other resources from a broad range of national, regaional and institutional public research infrastructures in Europe.
Under Horizon 2020, € 600 million have been earmarked for building the European Open Science Cloud by 2020. Efforts to design the EOSC interconnection infrastructure more comprehensively and to cover all phases of the research cycle and all scientific communities will go hand in hand with initiatives for broadening the user basis in both the public and the private sectors.
adapted from BMBWF - press release (in German; translation by ERA Portal Austria)