16 Sep 2020
EC President von der Leyen' State-of-the-Union speech focuses on sustainable and transformational recovery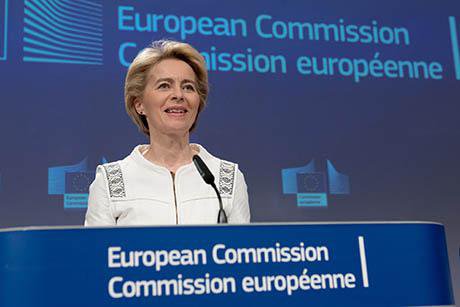 On 16 September 2020, European Commission President Ursula von der Leyen delivered her State-of-the-Union speech to the European Parliament, stating that the EC would drive a sustainable and transformational recovery that will give Europe a global platform to lead economically, environmentally and geopolitically.
With regard to response to the coronavirus, Ms. von der Leyen called for lessons to be learned, saying Europe must build a stronger European health union, with a future-proof and properly funded EU4Health programme, a reinforced European Medicines Agency (EMA) and a strengthened European Centre for Disease Prevention and Control (ECDC). The EC is planning to build a European BARDA – agency for biomedical advanced research and development – to enhance Europe's capacity to respond to cross-border threats. The President also called for a debate on new competences for the EU in the field of health, as part of the forthcoming Conference on the Future of Europe.
In the context of the Green Deal, the EC is now proposing to increase the 2030 target for emissions reduction from 40% to 55%, in order to put the EU on track for climate neutrality by 2050 and for meeting its Paris Agreement obligations. By next summer the Commission will revise all of the EU's climate and energy legislation to make it 'fit for 55'.
The President further announced that 30% of the €750 billion #NextGenerationEU budget will be raised through green bonds. And 37% funding will be invested in European Green Deal objectives, including 'lighthouse' European projects – hydrogen, green building and 1 million electric charging points. She called for a new 'European Bauhaus' as a co-creation platform for architects, engineers and designers, to launch the architectural style of our times, reflecting our aspirations to make Europe the first climate neutral continent.
With regard to digitalisation, President von der Leyen stressed that "Europe must now lead the way on digital – or it will have to follow the way of others." She called for a common plan for digital Europe with clearly defined goals for 2030, such as for connectivity, skills and digital public services. She further announced that the EU will invest 20% of NextGenerationEU's budget on digital.
Other issues covered by President von der Leyen's speech were Europe's social market economy and the single market; the revitalisation and reform of the multilateral system, including the UN, WTO and WHO; a new Pact on Migration, to be presented next week; the upcoming EC' first annual Rule of Law report covering all Member States; anti-racism measures and tackling hate crime and discrimination.
President von der Leyen's Address is accompanied by a 'Letter of Intent' to European Parliament President David Sassoli and to German Chancellor Angela Merkel, who holds the rotating Council Presidency. The letter sets out a list of initiatives the European Commission intends to bring forward over the coming year, in order to deliver the objectives set out in the Address.
For more information:
President von der Leyen's State-of-the-Union address
EC Factsheet summarising the main initiatives put forward in the 2020 State of the Union Address.