22 Feb 2019
EC presents ERA Progress Report in Vienna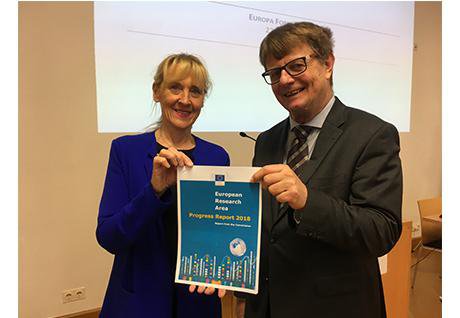 At the Europa Forum Forschung (EFF, a quarterly meeting format for the Austrian EU research community) on 22 February 2019, the European Commission presented the ERA Progress Report 2018. It was the first presentation of this report in a Member State. Arie Van der Zwan from DG Research and Innovation highlighted the main outcomes of this fourth ERA Progress Report after 2013, 2014 and 2016, and entered into a lively discussion with participants.
As the Report includes specific country reports for all Member States, including an analysis of their National Action Plans, the focus in Vienna was on the main findings concerning Austria's progress towards ERA.
Austria's performance at Priority level shows that the country performs best in priorities 2a, 3, and 2b, with the highest scores in Priority 2a. In the area of Public-Public-Partnerships, the Austrian score is three times the EU-28 average. Growth scores are keeping pace with the EU-28 (excl. GBARD). Investment in transnational cooperation has not increased significantly, but remains high. Austria is an active participant in transnational cooperation.
Austria's strengths include its attractive research system and sufficient human resources. According to the report, Austria acknowledges the need to strengthen basic research and its institutions, and to increase it to the level of leading research nations by 2020. All federal states and an increasing number of regions have R&I strategies that have been prepared according to the smart specialisation model. Austria has made progress in enhancing demand-side stimulation of innovation.
In terms of research infrastructures (ESFRI, Priority 2b), participation is slightly below the EU-28, but above ERA average. Austria's participation rate in ESFRI Projects and Landmarks has clearly increased from 2016 to 2018. In 2016, the government adopted a package for 2017-2021 for further support. Universities are encouraged to strengthen their collaboration, which would consolidate investments and ensure a wider use of RIs.
For more information:
EC presentation slides on ERA Progress Report 2018
ERA Portal News: ERA implementation is slowing, Progress Report 2018 says
ERA Progress Report 2018 and Country Report for Austria (download)