16 Oct 2017
Commissioner Moedas outlines plans for FP9 in interview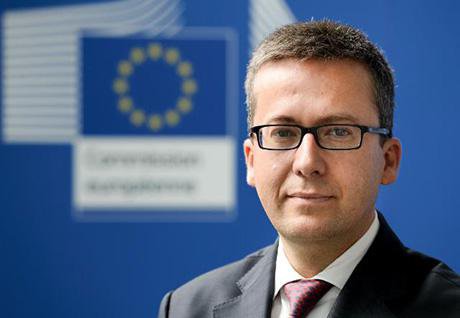 The Estonian Council Presidency has published an interview that Science|Business carried out in writing with Commissioner for Research and Innovation Carlos Moedas. In this interview, the Commissioner argues the value of research and outlines some of his plans for the next EU Framework Programme.
Mr. Moedas states that in his view, the objective of EU-funded research is to "achieve tangible impacts that boost the European economy and make life easier for citizens". He stresses the importance of interdisciplinary research, referring to the creation of the European Open Science Cloud in this context. To him, this is "a place where scientists from all disciplines working on publicly-funded research can connect, share and build on each other's work". The European Open Science Cloud is due to begin in spring 2018. The European Commission expects it to be fully up and running by 2020.
In order to increase the impact of R&I generally, the Commissioner speaks of having "missions" in the 9th Framework Programme, which means "focusing some of our resources on a limited number of research areas, which would be defined in close consultation with citizens". Another tool for achieving greater impact should be the European Innovation Council (EIC).
Asked which of the ideas launched by French President Emmanuel Macron in his call for more focus on science, technology and education in his recent speech the Commissioner finds most appealing, Mr. Moedas mentions President Macron's support for the EIC, to ensure Europe has "market-creating innovations that turn our best ideas into new opportunities, businesses and jobs".
Asked finally what he considers the strongest argument for both national and EU-level government to increase investment in R&I, Commissioner Moedas says the European economy needs to expand and address its slow productivity growth, which in turn requires "boosting R&I and investing more in areas like skills development, better management and ICT. This will ensure more impactful innovations and better dissemination of results. This in turn will drive prosperity in the long run". Public R&I plays a key role in this context, according to the Commissioner, and should cover the whole cycle of innovation, from fundamental research to market-creating innovation, to have maximum impact,concluding "And this is where the EIC comes in".
To read the full interview, please go to
Estonian Council Presidency: Science|Business interview with Commissioner Moedas
Photo: Commissioner Carlos Moedas, by EC