14 Sep 2022
Commission President von der Leyen delivers State of the Union Address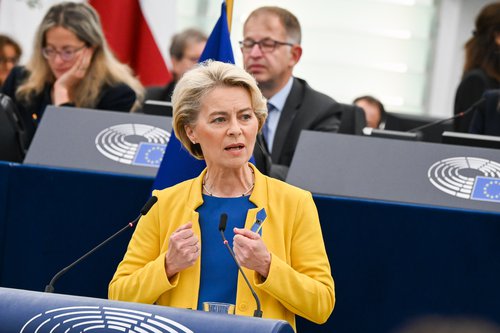 On 14 September 2022, Commission President Ursula von der Leyen presented her 2022 State of the Union Address. One of the main topics of her speech was the Russian invasion of Ukraine. From von der Leyen's point of view, "we have brought Europe's inner strength back to the fore". So far there has been more than €19bn in financial support from Team Europe (not including forecast support). They expect € 100 million for the reconstruction of Ukrainian schools. So far more than 70 schools have been destroyed or damaged in the war and half a million Ukrainian children have started the school year in the EU. She stated that "Ukraine is an emerging hub for new technologies with many young innovative companies".
On the subject of energy, von der Leyen pleaded, among other things: "We have to move from the niche market to the mass market for hydrogen." According to REPowerEU, ten million tons of renewable hydrogen are to be produced in the EU every year by 2030. Here "a market intermediary for hydrogen (...) who closes the investment gap" is needed. Therefore, a European Hydrogen Bank has been set up, which will be able to invest three billion euro in building the future hydrogen market. In a tweet in this context, Commissioner Gabriel referred to the EIT Raw Materials and the Clean Hydrogen partnership.
President van der Leyen suggested making 2023 the European Year of Education and Training. She advocated for investing much more in education and training and working closely with companies to achieve this. As an important first step she proposed to better and faster recognise the qualifications of foreign skilled workers in Europe.
Von der Leyen announced a European law on critical raw materials which would go hand in hand with the European Battery Alliance (launched five years ago) and the Chips Act (announced last year). "Therefore we will expand our financial participation in important projects of common European interest.", the Commission President said. There should also be a new European Sovereignty Fund.
Her message to the people of the Western Balkans, Ukraine, Moldova and Georgia was: "You are part of our family, your future lies in our Union and our Union is not complete without you!"
Concerning disinformation and democracy, the President reported on the example that this year the University of Amsterdam closed down a supposedly independent research centre that was in fact funded by Chinese actors and was publishing supposed human rights research. "Such lies are poison for our democracies", she said and announced that there will be a package to defend democracy.
As requested by the European Parliament, she sees the time for a European Convention. "It is time to renew the European promise. Some might say this is not the right time. But if we are serious about preparing for the world of tomorrow, we must be able to act on the things that matter the most to people", President van der Leyen concluded.

State of the Union Address by Commission President von der Leyen (europa.eu)