19 Nov 2018
Call to Action "Getting Europe on track with SDGs" launched at conference in Vienna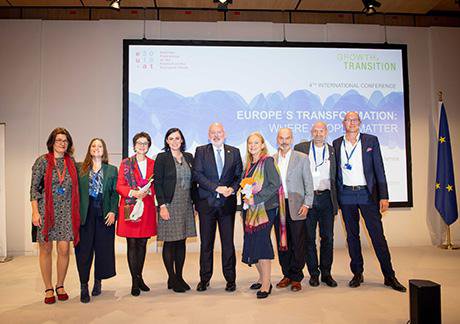 Experts from the social and environmental sectors, from politics and the economy, came together at the Growth in Transition Conference "Europe's Transformation: Where People Matter" on 14 and 15 November 2018 at the Austria Center in Vienna to discuss how economic growth can be achieved while simultaneously protecting the climate. The conference made a key contribution to the implementation of the SDGs, the Sustainable Development Goals and the Paris Agreement on climate protection.
During the conference, a Call to Action was formulated by the conference participants, calling on the European Commission together with the EU Member States to focus on key themes such as decarbonisation, the circular economy, sustainable management of natural resources, halting climate change, and digitalisation. The Call to Action makes further recommendations to promote the development of eco-innovations and a sustainable financial sector. In addition, a stronger focus must be placed on sustainability research and increasing public awareness of sustainability issues, not least through more intensive cooperation with the media.
More information can be found here.