19 Oct 2018
ASEM Senior Officials discuss contribution to SDGs from a Lifelong Learning Perspective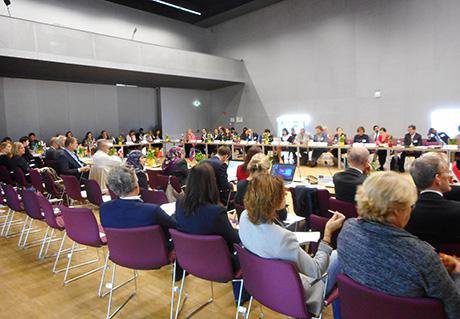 It is now ten years since the first ASEM Conference of Ministers responsible for Education, which took place in 2008 in Berlin. During these ten years, the significant role of co-operation between both regions in the field of education, as well as the necessity to continue dialogue, exchange best practices and implement joint activities in areas of common interest repeatedly was acknowledged. Ever since the first ministerial meeting, education ministers have focussed on four priority areas which are still the main areas for co-operation: (a) quality assurance and recognition; (b) engaging business and industry in education; (c) balanced mobility; (d) lifelong learning including technical and vocational education and training.
Focussing on continuity, consultation and collaboration for results and commitment for co-operation, SOM I in Austria focused on "The pathways to recognition. A contribution to the Sustainable Development Goals/SDG from a Lifelong Learning Perspective". The ASEM Education Process has a role to play in supporting SDGs for a more prosperous, equitable and sustainable world. It can contribute in particular to the achievement of SDG 4, which aims to ensure equitable opportunities in education from a holistic and lifelong perspective.
On the premises of the Danube University Krems, one of the leading universities for continuing education and Lifelong Learning in Europe, a framework was offered to discuss how ASEM education can contribute to a better understanding of education systems to promote recognition and mobility.
SOM I remains a platform to discuss the opportunities the ASEM Education Process can create, to increase mutual trust and recognition between systems and institutions in Asia and Europe. In addition to that, SOM I focused on creating this mutual trust and collaboration between educational levels such as initial academic education, vocational (higher) education and continuous education, as well as between education and the private sector to stimulate and facilitate transition.