05 Nov 2018
1,300 experts discuss current developments in industrial technologies at INDTECH2018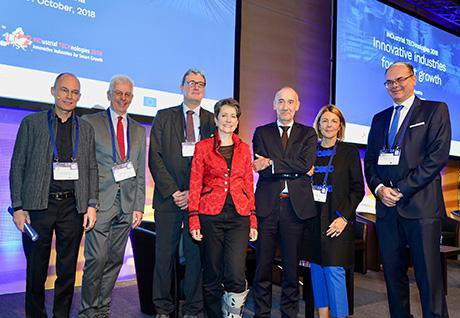 On 30-31 October 2018, more than 1,300 experts from the fields of research and industry discussed current research developments in production, materials, nanotechnology and biotechnology at the "INDustrial TECHnologies 2018 – Innovative Industries for Smart Growth" conference. In the context of the Austrian Presidency of the Council of the European Union, the conference was jointly organised by the Austrian Federal Ministry for Transport, Innovation and Technology (BMVIT), the Austrian Research Promotion Agency (FFG) and the European Commission.
Jean-Eric Paquet (Director-General Research and Innovation, European Commission) referred to the importance of Horizon 2020 for supporting industrial research. BMVIT Secretary-General Andreas Reichhardt, who attended the conference representing Federal Minister Norbert Hofer, emphasised the significance of investments in key technologies. He also referred to the great success of Austrian grant applicants in the field of Nanotechnologies, Advanced Materials, Biotechnology, and Advanced Manufacturing and Processing (NMBP) of the EU Framework Programme. € 72 million in subsidies have been secured in this field so far, amounting to a success rate of 22 percent.
Esteemed solar technology pioneer Bertrand Piccard and Infineon CEO Sabine Herlitschka delivered the keynote speeches at the conference. Bertrand Piccard presented his project of identifying 1,000 clean, efficient and profitable solutions for a turnaround in energy policy. "If we want to pull innovations to the market, we need to create a need for them with modern and ambitious environmental targets and energy policies", the environmental pioneer demanded. Infineon CEO Sabine Herlitschka, in turn, pointed to key technologies as the new global currency in her address. "Digital transformation is not only a question of technology. It is also a commercial, political and cultural competition. A global European competition strategy is key for us to stay ahead in this competition. We have to develop a strong European way", Sabine Herlitschka said.